Products > Solar Backpack
| | | |
| --- | --- | --- |
| No. | Product Name | Unit size(cm) |
| 1 | SUNPAL-B001 | 31*21*47 |
| 2 | SUNPAL-B002 | 37*19*47 |
| 3 | SUNPAL-B003 | 29*15*47 |
| 4 | SUNPAL-B004 | 33*14*52 |
| 5 | SUNPAL-B005 | 31*14*42 |
| 6 | SUNPAL-B006 | 37*20*47 |
| 7 | SUNPAL-B007 | 41*30*22 |
| 8 | SUNPAL-B008 | 45*34*22 |
| 9 | SUNPAL-B009 | 37*29*15 |
| 10 | SUNPAL-B0110 | 72*52*40 |
| 11 | SUNPAL-B0111 | 51*43*25 |
Instruction of  Solar  Backpack
solar energy charger absorbs solar energy through solar energy panel and then turns solar energy into electric energy,
which will be stored in storage battery. It can charge different  specification mobile phones through corresponding connectors.
It is suitable to be used in the emergency situation when there is no electricity outdoors.
If there is no sunshine for a long time ,or changes full power battery for cell phone and moving charger is available.
This product is easy to operate ,safe to use ,convenient to take and fashionable.
It is an ideal product for living and traveling.

Function:
-- gives each kind of brand handset (Nokia, Samsung , Moto, Simens, Ericsson) charge or the power supply.
-- gives the digital equipment charge. For example: Digital camera, PDA, MP3, IPOD and so on.
-- may give in theoptional palm the mechanical games charge. For example: PSP, NDS, GBA and so on.

Operation methods:
-- First, will link the wiring one end and the outlet connection,  another end will be joined to the corresponding extension attachment  and the handset docking,
if in the accumulator cell also will have the electricity, the handset namely will be able to have the charge  instruction, will indicate charge carries on.
-- If cannot give when the use the handset charges, may the sun bags  put under the sunlight the direct radiation, for the full use solar energy,
will be best with the light becomes the vertical angle, the battery control lamp shines, namely indicated the accumulator cell will be charging,
after approximately 30 seconds, again will have the connection insertion handset the charge instruction, indicated the handset is charging.
-- Input can be connected with solar panel or moving charger, never to output.

Main parameters:
-- Solar energy panel:0.75W  8V95AH
-- Charging output  voltage:3.5-5.5V
-- Charging output curreng:450mA

Main commponents:                                            
-- Solar panel :1PCS (waterproot)
-- Connection:1PC,tength:1m
-- Power back:1PCS
-- Adapter:5PCS(If transfers in the attachment not to have the user to want to charge the product attachment  please in addition to buy)

Notes:not include battery

Warning:
-- Prevent from water and intense impact.
-- Keep the surface of solar energy panel clean, and keep from scratching the surface.
-- Some of mobile phones need to equip special plug to use this product .
-- Prolonged storage boxes of batteries, I do not have to remove batteries to avoid batteries will self-discharge.
-- When some mobile phones have to "charge" display, it is possible that the power of storage battery is not enough.
It's better to shine it amply or use local electricity to charge it.
-- Handsets adequate electricity throughout the duration and geographic area, e and mobile phone launches power.

Solar energy to battery charging timetable:
-- selects the capacity of storage battery is: 1300mAh, needs for 3 hours.
-- selects the capacity of storage battery is: 2100mAh, needs for 4.5 hour.
-- selects the capacity of storage battery is: 2400mAh, needs for 5.5 hour.

The accumulator cell gives the handset duration of charging:
-- The accumulator cell has the electricity, inserts the out-port handset then opening machine, after 1-2 hour the accumulator cell
phonograph transfers to in the handset.
-- Accumulator cell not electricity, exposes to the sun 5-10 minute under the sunny sunlight to insert again the handset then charges,
1 hour subsequent party machine may converse
on the telephone 15-30 minute, waits for an opportunity 45-50 minute.

USER MANUAL OF SOLAR BACKPACK CHARGER
This product is a multi-function solar backpack charger with the built-in 900mAH high capacity rechargeable polymer battery and two pieces solar panel
(attached on the backpack for outdoor solar charging, or removable from the backpack for direct charging). It is adaptable to the mobile phone, digital camera, PDA, MP3, MP4 whenever and wherever.
It possesses fashion design and convenient for the usage.

OPERATION PROCEDURE  
Please follow the steps below:
Charge the solar charger before the usage. These are 4 options for charging:
(1) Put the solar backpack charger outside with the solar panel confronting the sunlight, hook up the cord into the battery to start charging with a green light on.
(2) Remove the charger from the backpack and put it confronting the sunlight directly. The charger will convert solar energy to electrical energy into the build-in rechargeable battery with a red light on.
(3) Connect the charger to the computer with USB cable for charging with a green light on. Light goes off when charging completes.
(4) Charge it with an AC adapter with a green light on. Light goes off when charging completes.
Connect the connector adapter to the charger with or without an extended cable.
Connect the phone or other digital products to the connector adapter.
Start charging the phone or digital products with an indication. Simultaneously, the phone is operational during the charging.
BATTERY (SEE ATTACHED PICTURE)
Charging indication: Green light indicates when using AC adapter or PC for charging; Red light goes on when using solar panel.
Switch: 1. Standby (with <30uA); 2. Output with 5V; 3.Output with 5.6V; 4. Flashlight. Adjust the required output accordingly
Output: connectable with various cables.
LED flashlight: it goes on when the switch is turned to 4. It goes off when output is connected initiating the charging.  
Input: Mini USB port for limited within 5.5V input. (It could be damaged permanently if it goes beyond 5.5V.)
Rendering board: Indication of intensity of UV rays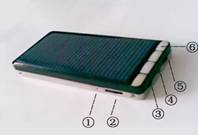 PRODUCT FEATURE
Solar energy battery for environmental protection.
Practical lithium battery with circuit protection function prolongs the life of usage.
Rendering board for UV rays intensity indication which especially gives the female users good reference from not being sun-dried.
High capacity lithium battery and good qualify circuit protection for over-voltage and short protection.
Fashion and new patent design.
10 years long-life LED flashlight for emergency light and night indication. It lasts 60 hours continuous operation after completed charging.
High efficient control circuit for fast charging function. One hour charging to the mobile phone to have 200 hours standby status and 2 hours operation status
(depending on the brand and function of the mobile phones).
Meet the CEC energy standard for possessing <30uA low voltage in stand-by status, i.e. a 900mA fully charged battery in standby for more than 30000 hrs.
PRODUCTION CHARACTERISTIC
High efficiency up to 15% in conversion of solar energy 
Equipped solar board :5.5V/130mA; build-in solar board: 5.5V/850MA
High capacity build-in rechargeable lithium battery:900mAH
Dimension: 90.50mm*44.50mm*11.50mm
Weight: main one with the battery - 66g
Output voltage: 5.5v/600mA. Charging time: 60minutes (depending on the brands and models of the phone)
Charging by solar energy: 10~15 hours depending on the intensity of sunlight.
 Charging by PC or AC adaptor; 2 hours.
Adaptable production for charging:
Mobile phone (standard accessory of connector adaptor for Nokia, Samsung, Motorola, Sony-Ericsson, Mini USB)
Digital camera
PDA
Mp3
Mp4 (The battery capacity under 1200mAH)
IPOD
GPS
NOTE
Keep away from open fire, sparks and other sources of ignition
The built-in battery fully charged for sole emergency use;
No metal conductor for circuit short;
No disassembly of the inside parts of charger;
Reading the user manual carefully. In-proper usage will cause the recession of the battery;
The built-in battery is fully charged when out of the factory. The capacity will decrees along with time passing. It keeps 30 days with more than 900mAh in 25℃ environment.
It is recommended the charger is put under the sunlight in general time for continuing charging;
The built-in battery can be charged quickly with USB cable by connecting to the USB output of computer or AC adapter;
No scrape the surface of the solar energy board with sharp object
Please put the charger and confront the sunlight directly for better charging performance;
No long term charging by the PC or AC adapter. Stop charging when indication light goes off.   
No other brand AC adapter for the solar charger but the equipped one. The input voltage is within 5.6V.
Out of rain and water.
FAQ
Too low voltage of built-in battery can lead to non-voltage output because the protect circuit turn off automatically .it will work again as usual after re-charging.
Some heat emanated is a normal phenomenon when the charger is working.


Solar Flashlight
ITEM NO
SUNPAL001-5LED
DESCRIPTION
Solar Flashlight
SOLAR PANEL
5V55MA / 0.275W
RECHARGEBLE BATTERY
Ni-MH rechageable batteries  3PCS OF AA for each one flashlight       
PACKING
1PC / PLASTIC BAG+ COLOR BOX
MATERIAL
ABS
CERTIFICATE
CE,ROHS
FUNCTION
For using lighting in travel , tour inspection,aboard,emergency and open air and so on.and its emitting range for 50-60 metres.
                                       PICTURE

REMARKS:
1.battery life 3-4years; solar panel life:20years
2.Body material :ABS


Copyright 2008 HUG IDEA INTERNATIONAL CO., LTD. ALL RIGHTS RESERVED.