Products > Suspended Floor System > Raised Floor System

Raised Floor System

Application of Raised Flexible Floor Panel
Semi-conductor industry

--- Transistor plant, IC plant, Precision cleansing device

Precision industry

--- VTR special environment test, Precision tester, Precision machinery

Medication industry

--- Inspection room, Sterilized operation room, Segment scanning X-ray room

Biological science technology industry

--- Medicine manufacture, Food  manufacture,
Dust-proof sterilized operation room

Scientific technology industry

--- Optical Machine, LCD, SMT information
Functional Aluminum Flooring
Return air grilles in a variety of open ratios for creating vertical laminar flow with the air conditioning.
Standardized flooring components manufactured to exacting tolerances, making them easily to
assemble and highly interchangeable.
Designed for high loading with customizable height.
Can be designed to meet special height, steel mounting and support method requirements.
Facing texture, material and functionality can be selected as needed.
Flooring materials are resistant to damp, rust, fire wear and can be reused.
Environmentally friendly building material enables flooring to be recycled.
High density aluminum flooring panels manufactured by Taiwan's only ultra-large 3000 ton high pressure
die casting machine.

Environmentally Friendly Aluminum Flooring Can be Recycled.
The aluminum raised flooring are formed from alloy ingots using the precise high pressure die casting machine then subjected to CNC machining to become the various types of flooring. The flooring is designed for high loads and manufactured using a large 3000 ton die casting machine, making it light and strong with exacting tolerances. The result is environmentally friendly flooring that can be reused or recycled.
| | | |
| --- | --- | --- |
| SOLID PANEL | PERFORATED PANEL | GRATE PANEL |
| | | |
FLOOR COVERING
Conductive Tile is used in clean rooms, with a standard surface resistance ranging from2.5×10000 to 1×1000000 Ohms. (The optimal surface resistance value as specified by the ADV53.1 Standards of the U.S. Electrostatic Discharge Association.)
The conductive tile uses a polymer particle interface to create a static conductive network so it provides permanent anti-static protection. Externally it appears to resemble the patterns of marble, giving it a more decorative effect. Suitable applications include telecommunications, electronics, power, micro-electric and medical industries' control centers, computing rooms, electrical distribution rooms and clean/purification rooms that require a clean and static free environment.
High Pressure Laminate (HPL) is manufactured from several kinds of special papers that have been treated with phenol formaldehyde, melamine and resins then subjected to high heat and pressure to become thermosetting based decorative laminated sheets.
It is not only colorful, smooth and glossy, it is also resistant to wear, heat and contamination. It can be cleaned and used for permanent decoration. Standard thicknesses are 1.2mm and 1.5mm, though custom thicknesses can be made to order.
PEDESTAL & STRINGER


The pedestal sets usually composed by up and down base seat headset spacers and screws for bending, according to uses the different location, it may choose the different load bearing and the coating way(ex. powder body coating, hot dip galvanized).
When it uses in the special place, it also can provides down-stringer or quakeproof structure to fit any different kinds needing of bearing shakes
It can choose inflating screw or banging screw on down base seat to increase it's stabilization when set up superelvation pedestal sets.
Our company adopted the pedestal sets all can selects and purchases grounding system to achieve the purpose of static dissipative.
Associated Engineering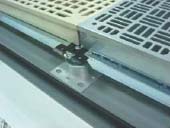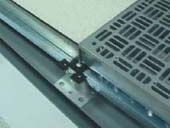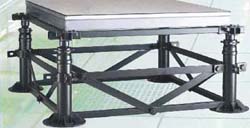 "Hi-Tech Plants" often install aluminum raised flooring in their clean rooms since the movement of personnel, equipment and instruments tend to lead to wear and static build up that generate microscopic dust particles. To prevent dust and particles remaining in the clean room, raised aluminum flooring systems are throughout the hi-tech industries such as semi-conductor chip fabs, NMR scanning, IC testing, photoelectric mask laboratories, LCD, TFT, precision instrument and bio-technology. To control the direction of air flow and reduce localized turbulence, clean rooms use the space beneath the flooring for the flow of return air and ducting. The flooring panels used include perforated panels, grate panels and solid panels.


Copyright 2008 HUG IDEA INTERNATIONAL CO., LTD. ALL RIGHTS RESERVED.